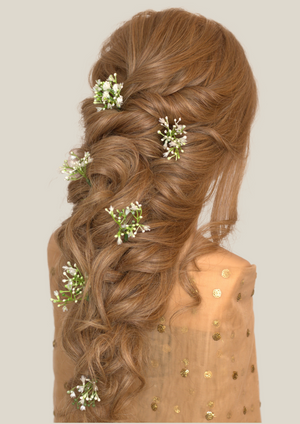 These gorgeous Blooms Pins will compliment every Bride's, Bridesmaid and Wedding Guests desired look.
The Blooms come set on individual pins in a pack of 10 so that they can be carefully arranged into the hair as you desire. Blooms can be placed together to make your own type of Gajra or dotted around the hairstyle.  
For maximum effect pick Blooms that are a contrasting colour to your Bridal Chunni.
Please note 
- The Blooms can be easily fixed into your hair style by your hair stylist or yourself.
- Our Blooms are carefully spritzed with scent to make them seem as real as possible.
- Design and Blooms used to make the pieces may differ from the images on our website and social media.
Bridal blooms
Great service and delivery time! Love the flowers! Thank you 😊
Single hair blooms
When I opened the box, I was stunned to see how beautiful these were! The single blooms gives me so many options on how to wear them! Love love love!