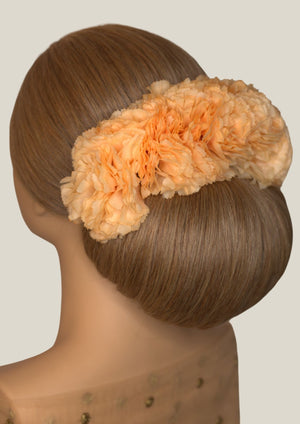 These gorgeous on-trend Faux Blooms for the hair are perfect for a Bride, Mother of the Bride and Bridesmaids or just for a special occasion.
Please note 
- Gajra is made to go all the way round approximately 38cm
- Half Gajra is approximately 18cm which would fit from ear to ear.
- The Blooms can be easily fixed into your hair style by your hair stylist or yourself.
- They can also be moulded into the shape you require and can also be stacked (we would recommend two at the most).
- Our Blooms are carefully spritzed with scent to make them seem as real as possible.
- Design and Blooms used to make the pieces may differ from the images on our website and social media depending on the Blooms available, colour specification and customisation.
Carnation blooms
I don't know where to start! I'm obsessed with this product and the amazing scent. My box arrived damaged in transit but the product had been nicely and securely packaged and was not damaged. I cannot get over how beautiful these look and I cannot wait to share pictures from wedding day. They look stunning and the process from start to finish was fabulous. Pictures don't do them justice, worth every penny! They arrived early too which was a plus. Can't wait to reuse them too. Thank you so much x
Carnation Blooms (half)
Looks beautiful, can't wait to wear. And I love the scent!
Carnation blooms
Omg I was so pleased with my carnation .. and more so the smell I'm in love .. the scent is by far amazing. Love love it xx